Business Tools > Credit Card Processing
Service Related Credit Card Processing
Service Related credit card processing are low cost solutions for your credit card processing needs. In fact, a ServiceRelated.com merchant account gains you access to our suite of tools that include free business leads.
Credit card processing companies classify merchants based upon the principal method used to transact a credit card sale. We have broken these into Retail/Restaurant, MOTO (Mail Order Telephone Order), Internet based processing accounts, and Wireless accounts. Choose the one that most suits your business or, better yet, give us a call to discuss your merchant account today 888-445-6447.
If we can't save you money on your current credit card processing, we will pay you $500!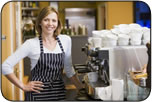 A retail merchant account is an account that processes 80% or more of their transactions via a face to face swipe through a credit card terminal or swipe reader. A retail merchant account is the most common account type. It is also the account type with the lowest cost. This is due to the reduced risk for a credit card transaction for a face to face transaction. A face to face transaction also provides a merchant with the opportunity to offer pin debit for the lowest processing rates available. If you fit as a retail merchant, get started with your credit card processing quote today.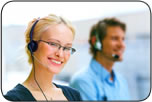 Credit card processors define a MOTO account as one where the transaction takes place when the customer is not present. This type of transaction is often referred to as "card not present". Once an order is placed, or a transaction takes place, the credit card number is manually entered into a credit card terminal, credit card processing software, or virtual terminal. Keep in mind, if you are a merchant who has a web site to drive sales, but all sales still occur over the telephone, we would consider you to be a MOTO account. Call us to discuss your options and to get started today.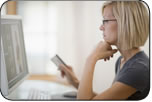 Internet merchants accounts are for those merchants who sell products or services from a web site. Transactions handled directly on a web site utilize a payment gateway to handle the payment securely. Internet based accounts can also be used for merchants who handle transactions from locations other than their own via a virtual terminal. An Internet account utilizing a virtual terminal can be accessed from any computer with Internet access. Internet based accounts are becoming more and more popular due to the rapid expansion of portable computers (even cell phones) that have wireless Internet capabilities. Contact us to get started with Service Related today. We know that we will be your best option and can offer you the lowest discount rates available.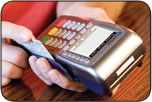 A wireless merchant account is one that utilizes a terminal that is similar to a cell phone. Wireless merchant account terminals are equipped with their own cell phone plan and do not require any other device (such as a laptop) to operate. A wireless terminal can be an ideal solution for on the road vendors or contractors. The wireless credit card terminals that we offer are self contained units that include a printer and card swipe and/or a signature screen.
1-888-445-6447

Call us Today!
Merchant Account Quote
Call for a free rate quote today.
888-445-6447