ServiceRelated.com > Merchant Accounts > Internet
Internet Merchant Account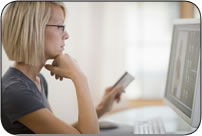 Internet merchant accounts are for those merchants who sell products or services from a web site. Transactions handled directly on a web site utilize a credit card payment gateway to handle the payment securely. Internet based accounts can also be used for merchants who handle transactions from locations other than their own via a virtual terminal. An Internet account utilizing a virtual terminal can be accessed from virtually any device with browser based Internet access.
Internet based accounts are becoming more and more popular due to the rapid expansion of portable computers (even cell phones) that have wireless Internet capabilities. Contact us to get started with Service Related today. We know that we will be your best option and can offer you the lowest processing rates available.
Internet Rates

Processing Rates

Credit Card Rate
2.19%
Debit Rate
2.19%
Transaction Fee
25¢
Statement Fee
$9.95
Minimum
$0.00
Application Fee
NONE
Annual Fee
NONE
Set-Up Fee
NONE
Web Site Integration
FREE
Gateway Fee
$9.95
Ask questions, or Apply today by calling
1-888-445-6447
Internet Merchant Account - Features
Free Payment Gateway Setup
We offer payment gateways from the leading vendors including Authorize.net and will get your started with no up front fee.
Free Programming
Service Related is available to help integrate your merchant account gateway. We will reprogram your existing terminal, web store, or point of sale system at no charge.
$0 Setup Fee
There is no setup fee for new merchants with Service Related. For merchants within reach of one of our offices, we assist with the setup of your gateway or virtual terminal. For merchants who are outside of an area where we have a representative, you will receive integration support via teleconference. With all of our terminals, a 24 hour support terminal line is available.
$0 Application Fee
Don't pay an application fee with a merchant account provider. Utilize Service Related and there is no application fee.
An Internet merchant account account is an account where the transaction takes place via a web store or online shopping cart. Internet merchant accounts typically utilize a secure payment gateway and most gateways will also offer a Virtual terminal for the ultimate in portability.
How an Internet Payment Gateway Works
Authorize.net is the largest payment gateway provider. The following diagram provides you with a visual of the steps a transaction takes when processed through a payment gateway.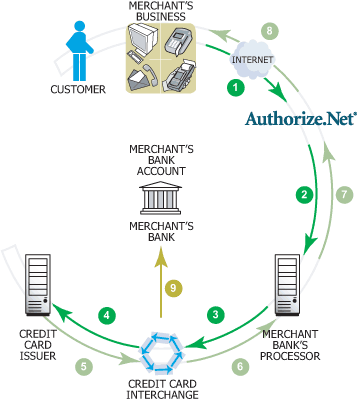 Merchant account gateway installation assitance with 24-hour support.

Get started today.
Merchant Account Quote
Call for a free rate quote today.
888-445-6447