ServiceRelated.com > Merchant Accounts > Wireless Credit Card Processing
Wireless Merchant Account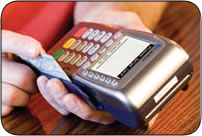 A wireless merchant account can be an essential tool to eliminate bad cards and reduce payment fraud for mobile businesses. At Service Related, we will set you up with a free wireless credit card processing terminal and have you saving money with some of the lowest wireless payment processing rates in the industry. Combine that with top notch service and ServiceRelated.com cannot be beat.
We will handle the entire process and make your job easier. We take the hassle out of your application with our simple three step merchant account application process. It is easy to get started and we are always here to help.
Get started right away by calling 888-445-6447 today or by utilizing the quote form to the right.
Wireless Rates

Processing Rates

Credit Card Rate
1.59%
Debit Rate
1.59%
Transaction Fee
25¢
Statement Fee
$9.95
Application Fee
NONE
Annual Fee
NONE
Set-Up Fee
NONE
Wireless Terminal
FREE
Monthly Wireless Fee
$19.95
Ask questions, or Apply today by calling
1-888-445-6447
Wireless Merchant Account Features
Free Wireless Credit Card Terminal
We offer free wireless terminals with new accounts. If you have shopped them, you understand that a wireless terminal can cost well over $500 with most merchant account providers. ServiceRelated will provide you with a wireless terminal for free. We offer wireless terminals from Verifone (Vx670) and Lipman (Nurit 8010)
$0 Setup Fee
You will be ready to begin processing shortly after receive your wireless terminal. Much like a cell phone you can be operational shortly after the initial network setup. For merchants within reach of one of our offices, we can come out to install and train.
$0 Application Fee
Even with our wireless merchant account, you won't have to pay an application fee to get started.

A wireless merchant account is one that utilizes a terminal that is similar to a cell phone. Wireless merchant account terminals are equipped with their own cell phone plan and do not have to be tethered to another device to operate. A wireless credit card processing terminal is an ideal solution for many merchants.
Wireless Credit Card Terminals
Free Wireless Terminal with a 24-hour support hotline. Get started today.
Merchant Account Quote
Call for a free rate quote today.
888-445-6447